Business industry for Academic Consulting Service in Vietnam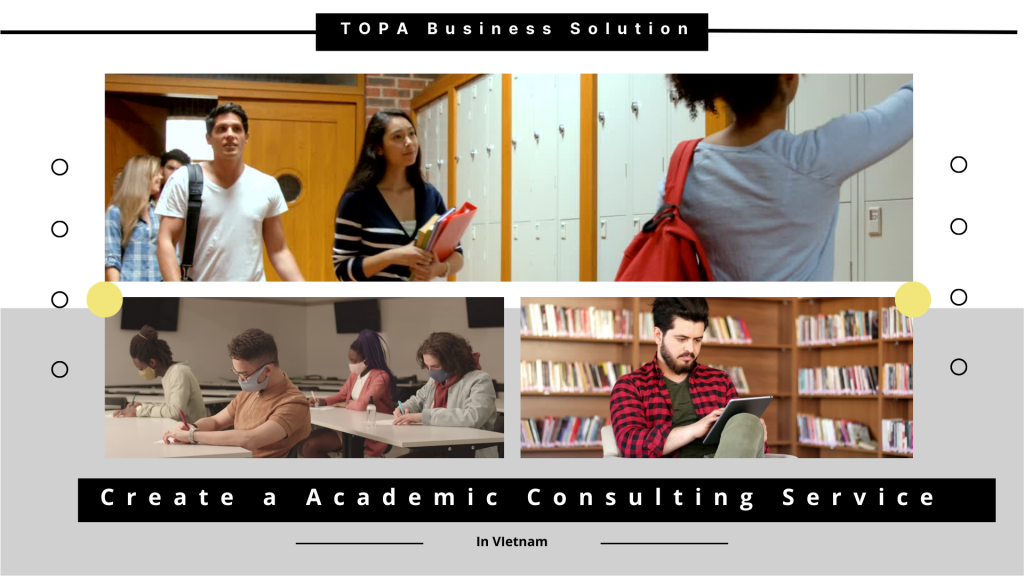 Line of Business to Registration
– You can still register the profession of foreign language education and other types of education normally for your business
Registration code : 85590 – Other uncategorized education ( Details : Language education)
– Along with that is an educational support service. Registration code 85600
Details: Educational consulting (except legal advice)
Details: Study abroad consulting;
Details: Educational consulting. Study abroad consulting.
Details: Career counseling.
Details: Educational consulting; Organize student exchange programs
Study Abroad Consulting – Educational consulting service for universities on pre-university, postgraduate and distance training courses
Details: – Educational consulting; – Service of providing guidance on education; – Services to recognize the educational examination; – Educational testing services; – Organizing student exchange programs;
Details: educational consulting; advisory service about teachers; organize student exchange programs
Service of checking and recognizing foreign language proficiency; – Consulting, training and transferring advanced technologies in the teaching and education industry; – Consulting and accrediting education quality; – Providing support services and organizing tours to visit and survey the network of education systems, businesses and international markets;
– Management consulting service: 70200 – Management consultancy
Details of registered industry codes can be found at : https://vanbanphapluat.co/decision-no-10-2007-qd-ttg-of-january-23-2007-promulgating-the-vietnams-system
Who will be your customers?
2.1. Your Company
Your company can definitely sign with schools, small classes. However, the information on the contract will be Education Support Services or management consulting activities.
When your company does not have a license to operate an English training center (Or physical and art training centers, all of which need a training license), it cannot sign a contract for training activities. with the schools are.
If you want to sign a corporate training contract, you will have to find a way to prepare the facilities and human resources to apply for a training license for the business.
Your company can completely sign a contract as a learning consultant or language service with partners who are your customers. Along with that is consulting on other related issues
2.2 Personal contract
You can completely sign a part-time labor contract with the school. When you sign this contract, you will pay personal income tax to the state and not related to your company's tax condition. The schools that hire you will deduct directly on your salary (Gross Salary – Net Salary) to pay your personal income tax
You can completely stay in Vietnam with a Work Permit as the manager of your company and have a part-time job as a teacher. This is not prohibited by law. It is the responsibility of the schools to notify the state that you teach at the school (under a part-time contract), not need to apply for a work permit for you anymore. This you can check with the recruitment information of the school.
I have seen a lot of investors come to Vietnam and do other jobs that are not similar to work permits. (Can be a speaker, consultant, teaching…)
However, once again I assert, if you want to be sure about providing educational services to your customers, then at the first time you can prepare the facilities, teachers according to the standards. h However, the cost of building facilities and hiring teachers is quite high.
>> You can see the process detail in this link ( Include the requirement of Department of Education and Training: https://docs.google.com/document/d/1phG2DbK7q-BHECb8pPDeKsVwwdAPLgWkSENZZTwTJoI
Here is the information of us to support you,
Please check it carefully and feel free to contact me if you have any questions.