How – to: CREATE A ACADEMIC CONSULTING SERVICE COMPANY IN VIETNAM
Create a academic consulting service company in Vietnam is the topic a lot of foreign Investors want to know. Topa.vn will support you to answer some question about that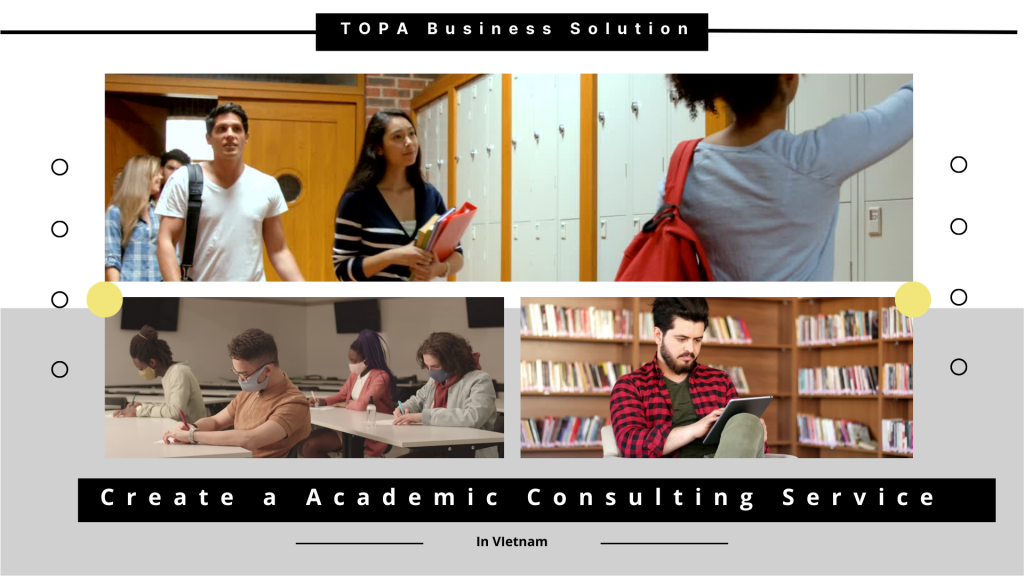 How to opening an Academic Consulting Services office
What is the cost and capital required for opening an Academic Consulting Services office (no teaching in the office) in Vietnam ?
To open an Academic Consulting Service office -> You need to open a business first. The cost without our service fee is only the capital investment & renting office.
Some question all investors need to know if you want to create a academic consulting service in Vietnam
Who invests in Vietnam? Some individuals or organizations?
Personal investment: Send us all Picture of Passport of Investor
Organizations: Send us Picture of Business Registration
What is the expected investment capital in Vietnam?
This is your information you need us to consult.
There is no minimum investment capital for make a consulting service & language training center. But for vocational training centers need the minimum capital investment : 5.000.000.000 VNĐ ~ 210.000 USD
We should note that the charter capital should be greater than the usual expenses in 01 year. Because if we need an explanation, we'll have a basis.
Normally, more than 10.000 USD can make a Foreign company in Vietnam
Note: Preparing the bank statement which have more than expected investment
Do you already rent a office space in Vietnam ?
If you prepare to rent an office in Vietnam, please make sure that this office can make business in their location.
Note: We can support to rent office space for you
About your business industry : Consulting Service & Training Service.
We see that the Training service is Language Training Service. If more detail, can you take more information for me :
Details of academic consultations you support for students? What is this ?
Training Service is only Language Training ? Or other ?
Because the Training service is conditional business lines so we need to check all information about this service.
2) Can I use this office to provide teaching services to local schools?
Yes. But firstly, your company is required to apply for a sub-license issued by the Department of Education and Training.
Conditions:

About English studying program: A-B-C program of the Ministry of Education and Training and equivalent programs approved by the Ministry of Education and Training.
About management apparatus: Director and Deputy Director (if any): must be a bachelor in the field of operation of the Center, knowledgeable about education and training, and capable of management.
Teachers: Having labor contracts, rights and obligations under the contract.

Required documents (Submit at the Department of Education and Training)

A written request for a sub-license
Notarized copy of ERC (and IRC if have)
Information of the business representative
Business plan of operation
Other documents upon request

About Service for make this Sub-license, it will take from 1500 – 3000 USD